lovers once.
now my heart is broken.
whats wrong with you?
drangerously crazy i am.
small breast, hands, and feet
a jew's nose.
my kind words spill out
like black tar on a white pillow.
carefully stroking you to sleep.
i stab you with harsh words.
whats wrong with me?
so vunerably i let myself love you.
hearing you paint a senario.
"It can't be just you, for I can love two."
you peirced my heart last March.
March. March. March.
you killed me in March.
my spirit fled, but kept returning,
each time you promised something new.
What can you promise?
What haven't I heard?
you bit my pretty black heart in two.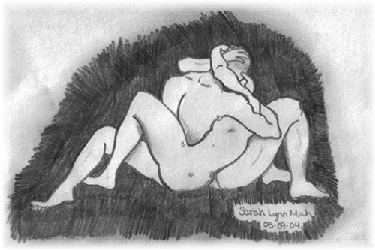 Current Mood:
bored